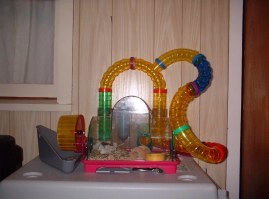 Plastic, Expandable Cages
There are a few different types of hamster cages available on the market today. My favorite, is the plastic expandable cages, such as the one above. My hamster loves to be able to tunnel through, much as hamsters do in the wild. There are some disadvantages of using this cage though. Sometimes they don't provide enough ventilation, and it can be hard for your hamster to breath. They also are easily chewed on. One of my hamsters would constantly chew holes in his cage to escape.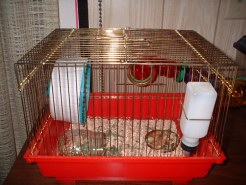 Wire Cages
Another type of cage is the wire. These are good cages for syrian hamsters, but not for dwarf hamsters. They provide proper ventilation, and are usually chew resistant. You can find them in many different sizes and styles, and there is sure to be one to fit your needs. These cages are not proper for dwarf hamsters though, because often the bars are spaced too far apart, and dwarf hamsters can easily escape, or get suck. I do not recommend this cage to be used for pregnant females, as the babies can fall through the bars, and die if not found.
Aquarium Cages
The last type of cage is the aquarium. I believe these are all-around good cages. I will be using 10 gallon aquariums to breed my hamsters in. There are different sizes, so you can find a larger size for syrian hamsters. Although you will need to buy a screen cover to put on the top, or otherwise you will have some uninvited guests in your hamster cages.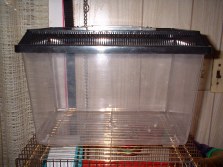 Carry Cages
It is also important to have a carry cage in case of an emergency. There are many sizes and styles available.